There are less than 50 days to qualify for an Escape or Experience! And to reward you for your final Escape sprint achievements we have BONUS ESCAPE CREDITS up for grabs for our Top 5 Recruiters and Top 5 Customer Pods for both September and October.
Achievers will receive 20 Bonus Escape credits for each month and each category. So, if you qualify in the top 5 for both recruiting and Customer Pods, in both months that could be an extra 80 ESCAPE CREDITS!
Those bonus Escape credits could push you from an Experience to an Escape, or qualify you for extra Escape travel costs! Or could even make you our Royal Escape Achiever for Escape 2022!
So set your Escape and Experience sprint goals and we could be spoiling you in Queenstown in 2022!
ESCAPE 2022 ACHIEVERS SO FAR
With less than 2 months left to Escape qualify, there are so many Social Marketers super close to qualifying and Escaping with us in 2022 to Queenstown, New Zealand!
And here are our Escape Achievers so far. Congrats to each and every one of you! And don't forget to push hard for every Escape credit as it could mean you achieve a higher Escape qualification level to cover your travel costs. Also, we still have the Royal Escape up for grabs and there are more Social Marketers than ever in contention!!
| | |
| --- | --- |
| Chelsea Bennett | NSW |
| Amrit Gill | VIC |
| Habia Gill | VIC |
| Mann Goyal | NSW |
| Karina & Matt Jolly | NSW |
| Reema Khurana | NSW |
| Jo & Paul Mould | NSW |
| Susan Naylor | QLD |
| Luisa Onorato | NSW |
| Vijaya Perumal & Dasz Robert | VIC |
| Lauren Ramien | NSW |
| Natalie & Alan Separovic | WA |
| Puja & Rajiv Sharma | NSW |
| Sakshi Vats & Yogesh Sharma | NSW |
| Santhiya Vijayakumar & Shiva Shankar | SA |
QUEENSTOWN, NEW ZEALAND
We promised you earlier in the year we were committed to Escaping together in 2022 and what better place for our Achievers to live it up whilst living clean than the beautiful and pristine Queenstown!
Escapes are like no other, exclusive and unforgettable, where you are inspired to take your business to the next level, whilst forming lifelong bonds with other Modere Leaders.
And don't forget for your new Social Marketers the Red Balloon $400 Experiences! You now only need 75 Escape credits and a new Senior Team Leader leg with 5,000 OP growth to achieve an Experience. This is not only a great incentive for your new Social Marketers, but also helps push growth above that new Social Marketer, that may be just what is needed to drive your Escape qualifications!
Check out the below for what it takes to achieve an Escape or Experience and go to your Back Office > Events > Escape to find all you need to know for you and your team to Escape to Queenstown in 2022, together.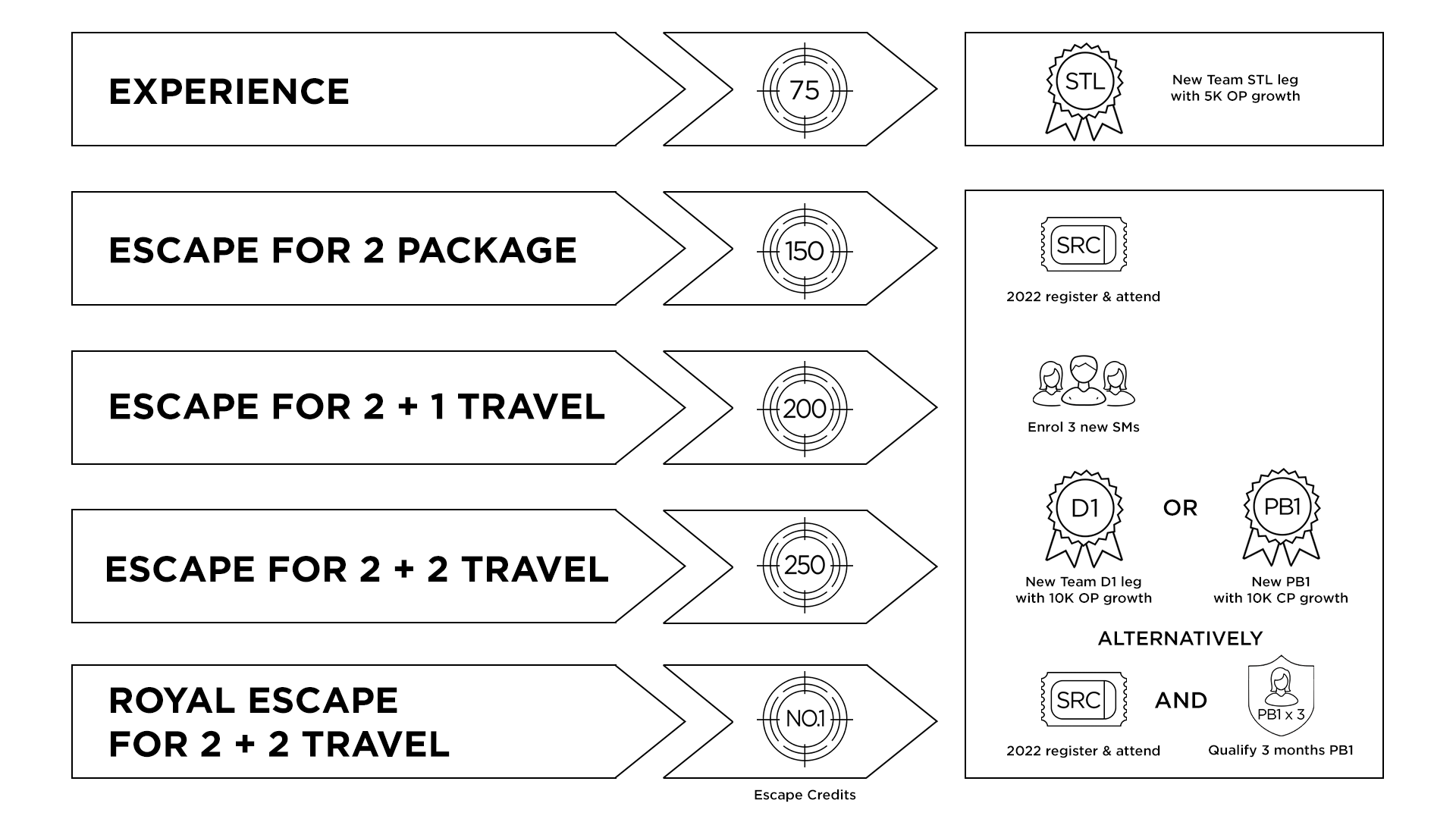 And to track your Escape qualifications don't forget to utilise your Escape Tracking page in your back office Business Dashboard. That is also a handy place to find quick qualification information by selecting the tips icon next to each qualification.
We want to Escape together in 2022! So set your goals now and join us in Queenstown!
#escapetogether22
#escape22Queenstown