SOCIAL RETAIL NEXT GEN PHASE 2 – IT'S HERE!

Social Retail Next Gen Phase 2 has officially launched! In addition to New VIP Tiers, Everyday savings, upgraded subscription manager + more, Customers can now enjoy loyalty benefits such as VIP tier loyalty matches and free shipping on subscription orders as well as $25 in Anniversary Credits every 6 months!
Social Retail Next Gen is a game changer and we want to make sure that you have all the information you need to educate your customers so check out our April Kick Off and the official Launch Video in One Voice. To brush up on the new implementations you can find various great assets in the Social Retail Next Gen Guide in One Voice, and don't forget to refer your Customers to the VIP Page on the Modere website.
*Loyalty Matches apply to the 3rd month consecutive subscription order onwards and the Every-Day orders in between the subscription orders. Free Shipping applies to the VIP 15% 3rd consecutive month subscription order onwards, with a maximum of 1 free shipping subscription order a month.
THERAPEUTIC GOODS ADVERTISING CODE
The Advertising Code outlines when testimonials and endorsements about therapeutic goods can be used and refers to people engaged in the production, marketing or supply of the goods. If you want more information on what the Therapeutic Goods Advertising Code is, check out the Direct Selling FAQs document. We've also included a PDF outlining which Modere Products are governed by regulatory authorities.
GET SET TO ESCAPE

Can you believe that we are 1 month into the Escape 23 qualification period! We can't wait to say Bula to Fiji! For those that want to Escape, now is the time to talk to your leaders, set your goals and plan what you need to do to get there. History has shown that achieving Escape comes from early planning and setting your monthly goals. We know that there have been some questions about vaccinations requirements and want everyone to know that we will always support our Social Marketers and come up with suitable options. For more information on Escape, check out the link below.
LIVE CLEAN LIFE

Get ready for an all new style of event coming next month, where we're mixing physical with digital!

May 12 we launch our Live Clean Life event – an opportunity to connect, collaborate and create.

We want to keep everyone accelerating through the year and helping you to create your own story. Live Clean Life will set you up on a business growth journey teaching you everything from social selling, to social media and business operations to product education and giving you the opportunity to create your own content and plan the month ahead.
SRC ON DEMAND

As our SRC month ends and we roll into a busy bustling April, it's easy to forget the hype that comes from our biggest event of the year. Don't let the epic resources we have for you go to waste! SRC on demand is only available till April 20, so time is running out! Brush up on the epic Customer learnings presented by Amanda Stevens, get inspired by fellow Social Marketer's stories, or refresh your learnings on all things Social Retail Next Gen! Keep the momentum going and re-watch the best event of 2022!
Simply log into the Virtual Platform and head to the On Demand section to access both Day 1 & Day 2 recordings.
KNOWLEDGE IS YOUR SUPERPOWER
VIP LIST – WEEKLY TOP 3
You are loving the new VIP List, but we know there are a lot of questions. Here are some answers to the common questions we are being asked:
When you refer to monthly recurring order, what do you mean?

Monthly recurring orders are the subscription orders that process automatically from your template on the date you have scheduled. Subscribe & Save orders are submitted via the shopping cart.
Once you have submitted the initial Subscribe & Save order, a Subscription template is created. This template will automatically process on a scheduled date that you select. These are your monthly recurring orders, as opposed to an Everyday order or Subscribe & Save order that can be submitted via the shopping cart.

How does the second month subscription discount work?

The $20 second month subscription discount is for all VIP Customers who have a second month consecutive subscription order. They receive a one-time $20 shopping credit off that second subscription order. The order must be a recurring monthly order that processes from the template.
This discount will not apply to Everyday orders or Subscribe & Save order submitted via the checkout. This benefit is for Customers only and will apply once only per account, so if you cancel and restart it won't apply again.

Will my Anniversary credit apply to my Subscription order?

Yes! Anniversary credits are allocated as Shopping Credits (valid for 31 days). These are available to add as part payment towards your order via the Checkout OR if you have selected to apply Shopping Credits to your Subscription orders in your Subscription Manager, they will apply to your monthly recurring order. Remember – all credits reduce the point value of an order, so make sure as a Social Marketer, if using these credits your order point total may be affected.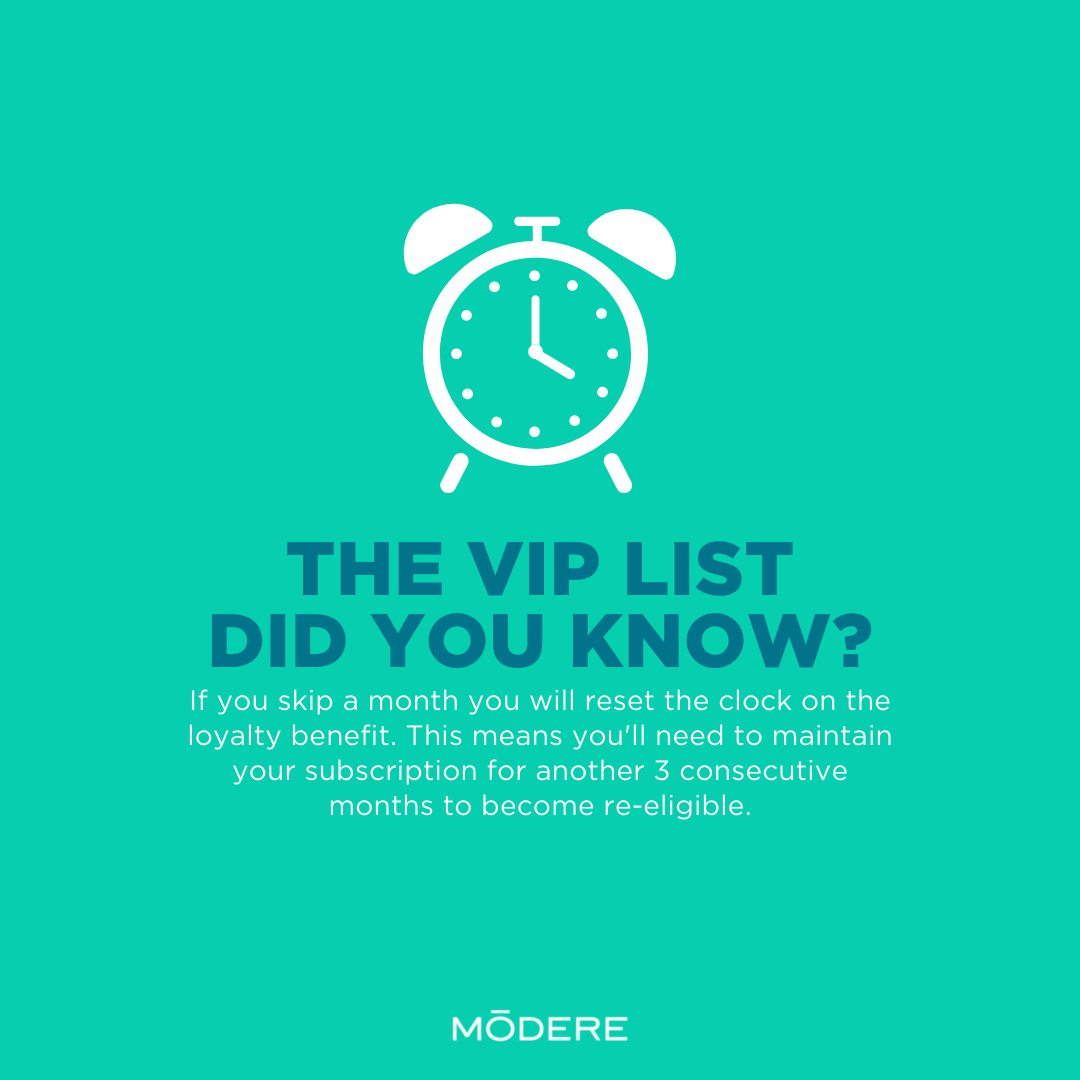 Make sure to check out the Social Retail Next Gen Guide in One Voice for all your resources, and check out our Buzz blog for more of your questions answered! And don't forget that our Modere Website Chat can answer many of your Next Gen questions 24/7.
DON'T FORGET YOUR FAVOURITES
SHIPPING & PRODUCT AVAILABILITY

Learn about out of stock products,
estimated date of return and any other
key information.

ALL THE LATEST

Stay up to date on promotions, events, and communication from Corporate by checking out our All The Latest Post and Featured Posts right at the very top of One Voice.
FOR CUSTOMERS THIS WEEK

This week we highlighted our sleep focused blog, as well as our new "Lovely Legs' focused blog. We spotlighted loyalty benefits that come from the new VIP List, as well as continued to focus on our three new products under the monthly theme of Active Living.

FOR CUSTOMERS NEXT WEEK

Next week, we'll continue focusing our social content and blogs around our theme of Active Living. We'll continue to highlight our new products as well as educate Customers on benefits that come from the new VIP List.
APRIL
15th – Good Friday – Public Holiday Office Closed
18th – Easter Monday – Public Holiday Office Closed
25th – ANZAC Day- Public Holiday Office Closed