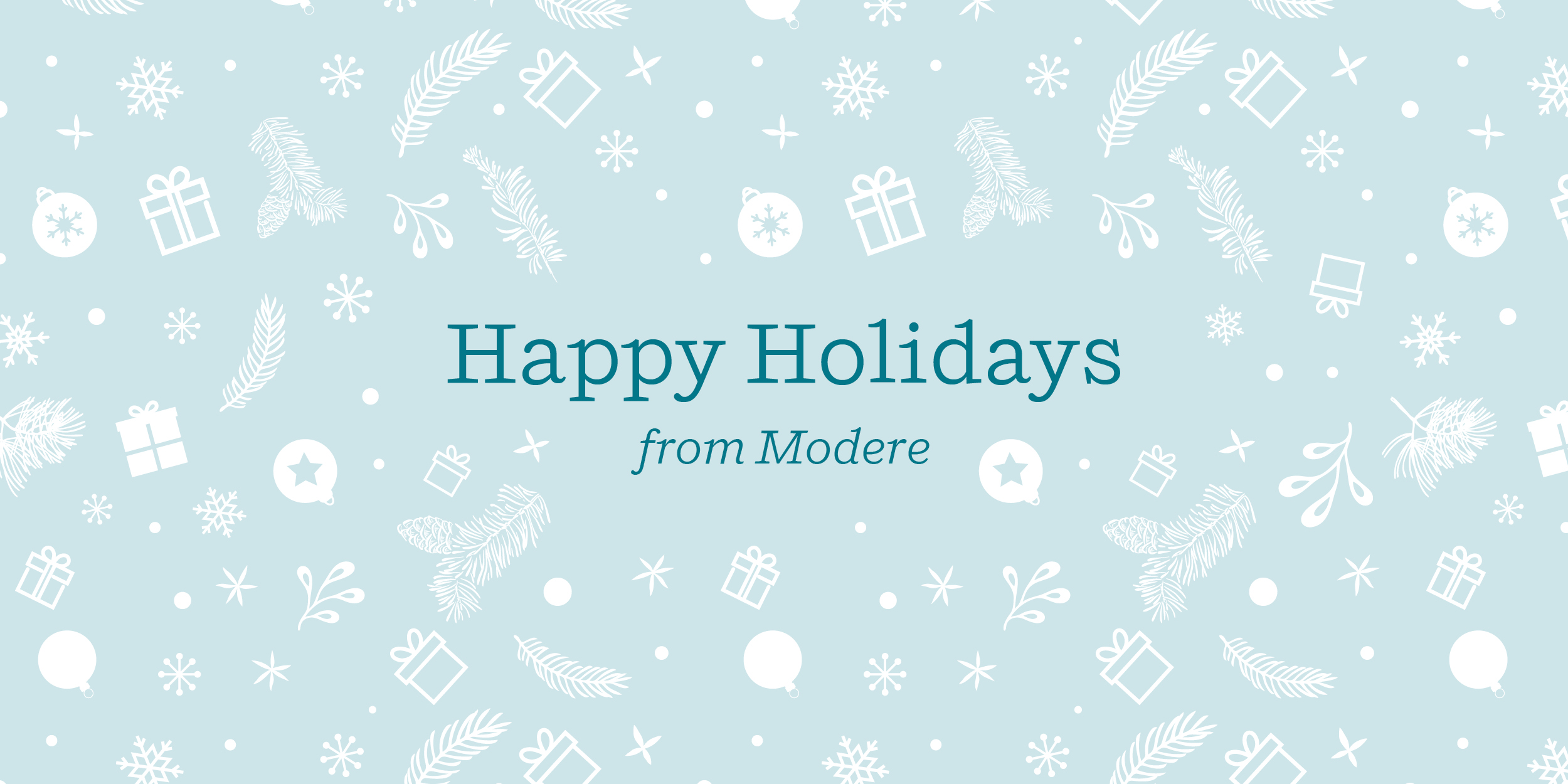 To our wonderful Social Marketers,
No matter the outcomes of the year that you've had, I am sure you will agree with me that 2021 has been like no other, and we have faced challenges that few of us ever dreamed would happen in our lifetimes. It was a year of challenges, sure, but some genuinely incredible things came from those storm clouds.
Empathy and compassion overflowed in a world where lockdowns and division strangely brought us closer together. We sent random acts of kindness. We checked in on people more than usual in a world where 'being busy' seems to be a badge of honour. We spring-cleaned the house before Spring had even arrived, and we took time to remember what was important in our lives; connection, freedom, our health and wellbeing, our planet, our tribe.
We all agree – What a wonderful time to be with Modere.
The challenges of 2021 may float into the distance; we guarantee new ones will present themselves, and we will be stronger and ready to take them on. We are determined to embrace the way of today, creating exceptional engagement and connection opportunities for you in 2022. The brightness of the year ahead is just on the horizon. But it would be remiss of me not to close out 2021, acknowledging those I am grateful for and take on the lessons of 2021 myself and for Modere.
Gratitude to you, our Social Marketers, those that saw something new and said 'yes,' and the incredible tenure of those loyal to this company. I am sure if we added it up, we would have more than 1000 years of dedication from our field, many of whom joined right at the very beginning. While so many things have changed, their loyalty and commitment to the cause have never wavered. Together, we thrived.
We hope you know how appreciated you are and how grateful we all are for everything you have delivered in 2021. We wish you, your loved ones, and those dear to you a wonderful festive season and a well-deserved break. We hope you take time out to recharge, reenergise and we wish you every success in 2022.
Allana Hinks

General Manager
A few reflections from the year included:
LAUNCHING 7 NEW PRODUCTS

We had some phenomenal new products arrive in 2021, and Health & Wellness was the big focus. We launched GO, Axis TreBiotic, Activate, PhytoGreens, PhytoGolds, PhytoReds, SHAPE Mango, and CellProof Double Cleanser. We created some amazing new assets and guides, chock full of tips and tricks to help you reach your Customers. Keep an eye on One Voice over the next few weeks for some exciting announcements.
INCENTIVES ARE GETTING BIGGER

GO, Escape, Sellerbration & Global Accelerator Bonus were some of
the Incentives we turned on their head in 2022 and saw so many of you get rewarded throughout the year. Remember that December is the last month to qualify and take advantage of our Global Accelerator Bonuses! All you have to do is title advance between Director 1 up to and including Elite 1, and you could see some extra bonuses in your account to kick off the new year!

SMASHING PROMOTIONS

We had some amazing promotions this year with record results. We smashed Collagen Kaboom and Black Friday plus Epic Tuesday, where we had a Modere first, NZ had their own Epic Tuesday.

Our warehouse worked tirelessly to smash through orders to make sure your Customers got their Modere goodies, with sending out record numbers for some of our biggest promotions ever. To stay up to date on all promotions make sure you're in One Voice.
HOSTING OUR FIRST EVER VIRTUAL SRC

We turned SRC virtual in less than 12 weeks and had over 1000 attendees. With 8 hours of content, including 5 product launches, big name Keynote Speakers, and 2 hours of recognition, it was a pretty good way to kick off the year! Attendees also got a one of kind SWAG box to set them up for the event! If you haven't already, make sure you get your ticket for SRC 2022 on the Gold Coast so we can ACCELERATE 2022 together!
COMPENSATION PLAN MADE EASY
We launched 11 Compensation Plan training videos and our Virtual Business Assistant, Mira! These business assets provided you with the knowledge you needed to grow your businesses! All 11 videos are now available in our Back Office Training, Shifting Retail Business Chat, Life App, and One Voice Guides.
ANNOUNCING ESCAPE

We changed the Escape location more times than we can remember but finally locked in New Zealand for 2022! We had 27 Red Balloon Experience Achievers, 48 Escape Achievers, and our Royal Escape Achiever Habia Gill & Prabh Singh! Congratulations again to everyone; we can't wait to Escape with you to Queenstown in 2022!
We will be open between Christmas and New Year's, with limited staff working as we are trying to give as many team members as possible a well-earned break. During this time, we suggest email as the preferred mode of communication – info@modere.com.au or info@modere.co.nz
A reminder that if someone has placed that last-minute order or you have a SmartShip scheduled, that will still process. Our warehouse packing and StarTrack deliveries will occur on all business days, and only local Adelaide deliveries will be held over the Christmas break. Wishing you all a wonderful Festive Season!
END OF MONTH
To synchronise with our Global Month Close off, Friday 31st December 2021 midnight USA CST: Australasia's December 2021 month close is: Saturday 1st January 2022
WA – 14:00 | NT – 15:30 | QLD – 16:00 | SA – 16:30 | ACT/NSW/VIC/TAS -17:00 | NZ – 19:00
DON'T FORGET YOUR FAVOURITES
SHIPPING & PRODUCT AVAILABILITY

Learn about out of stock products, estimated date of return and any other key information.

ALL THE LATEST

Want to stay up to date on everything that's happening at Modere HQ? Make sure you check out the All The Latest pinned post in One Voice.
DECEMBER
24th – Christmas Eve (office closed)
27th – Christmas Day Public Holiday (office closed)
28th – Boxing Day Public Holiday (office closed)
Skeleton staff working in the office for the three days between Xmas and New Years
All times are ACDT