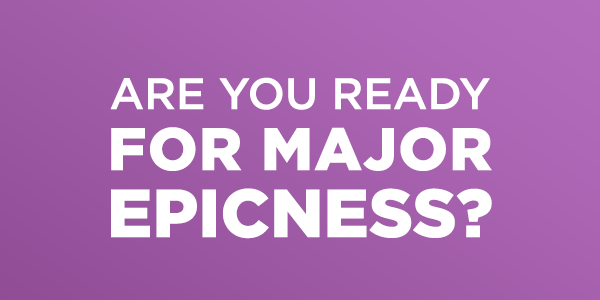 ARE YOU READY FOR SOMETHING EPIC?
Epic Tuesday is coming and all the assets you need to get seeding are waiting for you in One Voice. Here you will find social tiles plus new product reels and stop motions and a Guide to fill you in on how you can start the conversation about this epic deal – 10% off sitewide. This is a 24 hour only sale from Tuesday 7 December at 9am Adelaide time to Wednesday 8 December at 9am Adelaide time for Australia.
New Zealand – your Epic Tuesday is coming on Tuesday 14 December at 9am Adelaide time to Wednesday 15 December at 9am Adelaide but you can use all of our assets and content to start seeding!
Our Social Marketer Experience Lead Nikki Carter will also be dropping a video over the weekend to give you some extra tips on making your Epic Tuesday a success PLUS she is also joined by our Product Marketing Lead Sarah Christie for a series of clips to give you even more ideas on how you can promote Epic Tuesday to your community.
Make sure you head to One Voice now and then take a look over the weekend for even more content.
BLACK FRIDAY SUCCESS

We're still coming down from the high that was Black Friday. We've been calculating the figures, checking our percentages and running our eyes over spreadsheets because we know you all love a good stat! Check out our post in One Voice to see all of the amazing results.
GLOBAL ACCELERATOR BONUS


We want to help you smash your December and push your business to the next level with our Global Accelerator Bonus. This bonus is still available to all new Social Marketers who joined from 1 April 2021 and Title Advance to Director 1 through to Elite 1 from now until the end of this year
This is definitely something worth striving for and who wouldn't like a little extra bonus for your efforts right before Christmas. Check out The Buzz blog for more.
GM MONTHLY

Check out the first GM Monthly blog post in One Voice now. This concept has come off the back of our Leadership Summit as an additional tool for you to get an insight into Modere right from our GM Allana Hinks. We thought it made sense that the first GM Monthly blog was a wrap up of the Leadership Summit and what we are doing to steer you ahead and find even more success in 2022. Plus what we would like to work on and focus on as a result of your thoughts, ideas and feedback from the Summit.

Moving forward, the GM Monthly will be about what's happening in the world of Modere, the market and what we are doing to ensure that we do all we can to serve you. The GM Monthly will be the place to go to keep your finger on the pulse.

Check out the One Voice topic #ModereGMMonthly for the first blog in One Voice.
KNOWLEDGE IS YOUR SUPERPOWER
SOME POLICIES YOU MAY NOT BE AWARE OF
You cannot enrol your partner or spouse as a Customer with Modere
A Social Marketer can only own & operate one Social Marketer Account; Spouses (married or de facto) can only jointly hold one Social Marketer Account. Furthermore, a Social Marketer shall not register his or her spouse as a Modere Customer. Refer to 4.20 ONE SOCIAL MARKETER APPOINTMENT PER SOCIAL MARKETER
We have a 15 day cooling off period for all new Social Marketer accounts
Within the first fifteen (15) days of acceptance of the Social Marketer Application by Modere a Social Marketer can change their mind and cancel their account for a refund OR change sponsors – Refer to 4.5.2 – CHANGE OF ENROLLMENT SPONSOR
The Annual Social Marketer fee is an automatic payment taken on your anniversary with Modere.
Social Marketers will be required to pay a non-refundable annual fee to their enrolment as a Modere Social Marketer. Refer to 12.2.1 – ANNUAL SOCIAL MARKETER FEE
You may have noticed an administration fee with your bonus statement
A Social Marketer who is eligible to receive a Bonus Entitlement for a Volume Month must pay to Modere an Administration Fee for that month. Refer to 7.2 – ADJUSTMENT TO BONUSES
Returned orders and products do result in minus points
Social Marketers receive bonuses based largely on the actual sales of products to end consumers. When a product is returned to Modere for a refund, the bonuses attributable to the returned product(s) will be deducted. Refer to 7.2 – ADJUSTMENT TO BONUSES
DON'T FORGET YOUR FAVOURITES
SHIPPING & PRODUCT AVAILABILITY

Learn about out of stock products, estimated date of return and any other key information.

DECEMBER KICK OFF

We kicked off December in a brand new way this week with a short video on all you need to know about December and setting yourself and your teams up for success. Make sure you tune in to watch our General Manager – Australasia, Allana Hinks fill you in on products and promotions for December in One Voice now.
JULIE MASTERS TAKES OVER CELEBRATE

We have learnt so much in November with our Impact45 course with Julie Masters. We aren't ready to say goodbye to her just yet so she is taking over our Celebrate and saying a big congrats to our November Achievers AND our Impact45 graduates. This one is a special event and we would love to see you all in tuned in on Wednesday December 15 at 6.30pm Adelaide time LIVE in One Voice.

CHRISTMAS HAS COME EARLY

To thank our staff for all their hard work that they've put in this year, we are giving our entire AU Modere team a well-deserved Christmas lunch on Friday 10th December. This means that if you try to contact the office you will receive an Out of Office Message from 11.30am – 4:30pm. Our Chat feature will also not be available during this time. We will respond to all queries first thing Monday morning.
FOR CUSTOMERS THIS WEEK

What a week it was! We finished off Black Friday on Monday with some amazing results. This week, your customers will receive a curiosity email and text to kick start our Australian Epic Tuesday campaign. Our socials will feature our Christmas gifts, make sure you get in quick so Santa and the Elves have plenty of time to get these delivered.

FOR CUSTOMERS NEXT WEEK

EPIC Tuesday is here for Australia!! We'll be focusing on this in our socials alongside some of our Live Clean favourites and collections to get the most bang for your buck. Australian customers will receive a text and a launch email to launch the promotion. We'll also start our curiosity campaign for our New Zealand customers with a curiosity email and text.
DECEMBER
7th – Epic Tuesday AU
10th – All homework in for IMPACT45
10th – Staff Xmas Party (office closed from 11.30am)
14th – Epic Tuesday NZ
15th – Last Chance to order for deliveries to arrive before Christmas
15th – Julie Masters takes over Celebrate Zoom
24th – Christmas Eve (office closed)
27th – Christmas Day Public Holiday (office closed)
28th – Boxing Day Public Holiday (office closed)
Skeleton staff working in the office for the three days between Xmas and New Years
All times are ACDT