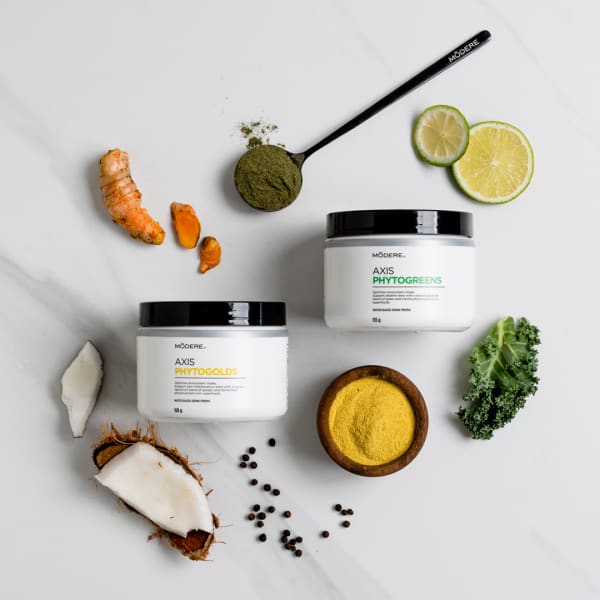 BOOM! PHYTOS ARE ALMOST HERE
These powerhouse powders are available at 10am Adelaide time Monday, so make sure you check out the guide in One Voice for your digital assets toolkit for you to start seeding. PhytoGreens are packed with 27 superfoods to kickstart your morning smoothie and support your gut. PhytoGolds is loaded with spices and fruits to optimise an anti-inflammatory diet to help support your body through the chilly months ahead.
THE BIGGEST TOOLKIT EVER!
Check out the Phytos Guide in One Voice to find your digital assets toolkit – everything you need to start sharing the love about these two incredible products. With Reels, social media tiles and EDM templates there is everything for those that just want to share and for others who may want to make their own, there are flatlays, products pics and suggested copy so you can get creative. PLUS tune in to our Social Marketer LIVE in One Voice right after our Customer Launch Monday for some extra tips on captions and stock photography from the team.
A MESSAGE FROM THE MANAGING DIRECTOR
The time has come for me to sign off and close a chapter of my working career, one that has been a huge part of my life for nearly 27 years with Modere.
I am retiring with the fondest of memories. My last day will be Monday the 31 of May 2021.
I am delighted to have worked with a dedicated corporate team, who always go beyond the call of duty to support our Social Marketers and Customers, I couldn't be prouder of them.
Likewise, there are many Social Marketers who I have had the privilege to work with closely, and we have also become friends. You are the reason we exist, and Modere has a great reputation because of the way you represent yourselves and our brand. A big thank you to you all.
I have thoroughly enjoyed meeting and working with many thousands of people in Australia, New Zealand and around the globe, something I will treasure for the rest of my life.
I sincerely hope that I have positively impacted people's lives, at least in some small way, during my time at Modere.
Modere is in great shape and in safe hands, and I know Allana will take on the role captaining the Australasian ship, and keep it pointing in the right direction. During 4 years with Modere, she has brought new insight, disrupted our thinking and been passionate about your success. I certainly wholeheartedly support her, and wish her great success partnering with you as Modere grows, and everyone prospers.
Likewise Liz, the other valuable member of the Executive team will be there supporting you, as many of you would know she is super talented and also very dedicated to your success.
Having worked with Asma now for 4 years, I can honestly say she is as passionate as anyone I have ever met, and wants only the best for you all… every way you look, it is exciting times at Modere.
I will reflect on my time with Modere with the greatest admiration knowing as a company we have changed a huge number of people's lives for the better!
I will now get the opportunity to spend more time with my beautiful wife Vicki, she has been the greatest support for me, more than anyone could know, and more that I could ever ask for.
May the sun shine on you brightly, may all of your goals and dreams become reality, and most of all, may you be healthy.
LOVE YOUR CUSTOMERS BONUS
We know you love your Customers so we want to incentivise you to love them just that little bit more. When you promoter title advance (achieve a new highest Promoter Title) this month, you will earn our special Love Your Customer bonus – that could be between 25% to 50% more than your standard Monthly Seller Rewards. The best part is there is no limit to the number of times you can qualify for the bonus in May and June. Who doesn't love that?!
FORBES TOP 10 TRANSFORMATIVE CEO
In advance of her prestigious Forbes Top 10 Transformative CEO award coming next month, Modere CEO Asma Ishaq spoke with Forbes about how she's helping to transform the category of Health & Beauty eCommerce. Read about her insights on the future of global trends—and of the Modere brand. Read her interview now.
MOVERS & SHIFTERS
Where connection and education COLLIDE. Relationships and belief are built at events so make sure you are in the room to feel the connection. This is our first ever hybrid event but it will also be your last chance to be with us in 2021 so don't be the one that misses out. We have big name global speakers, workshops, product taste tests and everything you need to be excited about your business in 2021. Get in quick as there are limited seats due to COVID restrictions.
KNOWLEDGE IS YOUR SUPERPOWER
WHAT MAKES AN ACTIVE CUSTOMER?
For your Customer to count as an Active Customer, for the month, their order must have a minimum volume of 1 point. The order cannot be merchandise as this has a zero point value.
Credits available to your Customer such as Share the Love new Customer credits will reduce your Customer's points too. If it is a small order and your Customers has available credit, it could impact the number of points that order generates. So even if they make a purchase, if the point value is zero that Customer will not count as an Active Customer.
DON'T FORGET YOUR FAVOURITES
SHIPPING & PRODUCT AVAILABILITY
Learn about out of stock products, estimated date of return and any other key information.
MODERE MASH UP
Our Product Marketing Lead, Sarah Christie hosted out Modere Mash up this week. Sarah answered your burning questions about our newest products hitting the market next week, PhytoGreens and PhytoGolds!
FOR CUSTOMERS THIS WEEK
Have you had your morning Logiq? Hopefully your Customers have with our Brain Food Flash Sale. Customers received an email to let them know the amazing discounts off not only on Logiq but those amazing SHAPE Chocolate packs. PLUS Phytos are almost here! So we'll start seeding this weekend leading into the Customer launch. We're also going to send your Customers a text on Monday to promote the Phyto launch.
FOR CUSTOMERS NEXT WEEK
Make sure you tune in at 10am Adelaide time Monday on our Modere Facebook page where we launch the two new Phytos!
Customers will receive an email and a text to let them know they are here and Phytos will of course be the focus on our social media platforms. We will be talking all about the benefits with some fun tips and tricks and recipes for Customers to try.
MAY
24th – PHYTOGREENS & PHYTOGOLDS LAUNCH
JUNE
2nd – Mash Up 3pm – May Kick off
Copyright 2021. All Rights Reserved.

Our mailing addresses are:
Level 1, 200 East Terrace, Adelaide, SA 5000
(08) 8333 6990 – info@modere.com.au

PO Box 91597 Victoria Street West, AUCKLAND 1142
09 828 9015 – info@modere.co.nz